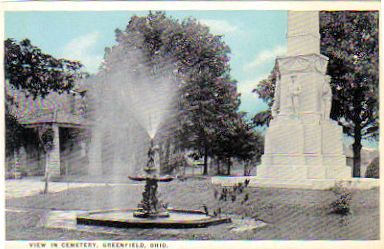 Comments and/or suggested corrections received from viewers of this site are posted below with the date we received the information for possible help with your genealogy research and the Greenfield Historical Society makes no endorsement of the information as being accurate.
January 20, 2013

All but one is in Section 2 Lot 77.

T E Powell is Thomas Elwood Powell, a Civil War Veteran.
"Mother" Powell is his wife, Uria (Armstrong) Powell
"Alvretta" Hammer is their daughter, Alvaritta (Powell) Hammer 15 Jan 1855-19 Sep 1924
Frank M Hammer, is her husband, dates, 08 Apr 1859-19 Apr 1916
Ella Boggess is Ella (Powell) Boggess, another daughter of Thomas and Uria. Her date of birth is 11/20/1856.
David L Boggess is Ella's husband, David Lindsay Boggess
Arwila Hampton is Arwilda (Powell) Hampton
Nearby, in Sec 2 Lot 79

Maud Burrell Fawecett is Maud Burrell (Hammer) Fawcett, daughter of Alvaritta and Frank Hammer. Her dates are 04 Jul 1881-02 Apr 1935

Proofs:
I have a paper handwritten written by Arwilda sometime between March 1 1895 and December 12, 1899, on which she listed the complete names and dates of birth for her parents and all of their children. I believe it was written between those dates because she included her father's date of death but not her mother's. In addition, I have my mother's Stevenson Birthday Book, wherein her grandparents, Ella and David Boggess, each signed on the page corresponding to their birthday, and each added their year of birth; Thomas' complete Civil War Pension record and that of Uria for her pension after his death, both from the National Archives; and a picture of Alvaritta where she wrote her name and address on the back.
---
October 7, 2013

Section 3A, Lot 25

Her name is Carrie Grace Porter
Born June 4, 1883
Died June 27, 1964
She is located in 3a 25 with her sister Alice Florence Porter.
There are 2 Carrie's listed, but should be combined into one. They are the same person.
---
October 7, 2013

Section 10, Lot AK121

Dennis Franklin Pryor died 8/11/98
---
November 29, 2013

Section 6, Lot 1A

Name correction: Martha Eleise (not Eluse) Walker
November 29, 2013

Section 14, Lot 23

Birthdate for Ralph Delbert Dale Walker: 10/30/25
---
April 10, 2014

Section 4A, Lot 38

Name correction: Catherine, wife of G. D. Ritchie (not Ritchis); William G. Ritchie (not Ritchis) is Catherine's son.
April 10, 2014

Section 4A, Lot 38

Date of death for Noble Johnson: 1854
---
September 18, 2014

Section 5B, Lot 48

Name updated, birth date added, death date updated: Alice Parker Wilson Matlock born June 21, 1925; died May 25, 2000
---
October 26, 2014

Section 11, Lot AB112

Name updated, birth date added: Lennie Leach born November 5th, 1967
---
January 21, 2015

Section 11, Lot AD122

Last Name correction - should be Spradlin, not Spradling
---
December 29, 2016

Section 10, Lot AH113

James Evert Newland
Born Oct. 6, 1931
Died July 15, 2009 --- Date addition
Marilyn Sue Newland
Born Aug. 12, 1935 -- Date correction
---