Greenfield Honors those who have Made a Difference with Bike Racks/Benches
Have you seen our first two beautiful bike rack/benches in uptown Greenfield honoring many of our past citizens who made a difference? They consist of a bench and metal silhouette depicting the particular person. They are a welcoming addition to our village and offer a place to rest and learn about the individual. On the bench is a brief description of the person and a QR code that can be scanned for more information.
The first two benches feature George Braxton and Drusilla Blackburn.
Visit these additions to our uptown and watch for additional benches in the future!
---
Bet You Thought Electric Cars are a Recent Thing...
Think again. Did you know an Electric Car appeared in Greenfield around 1902? F.R. Harris in his book Greenfield Chronicles highlights numerous cars in Greenfield over 100 years ago, including an electric car!
---
Today is Tomorrow's History
We often just think of Greenfield's rich history as something that occurred in the past, maybe even a century or two ago. Actually, our history is truly living as we have businesses today making a difference in our community. To read more about some of these successful entrepreneurs, click here.
What's your idea that will begin and prosper in Greenfield?
---
Did You Know about these Greenfielders who Made a Difference?
Place mouse on the picture to pause, click picture for more information.
---
Photo Scrapbook
The Society has a wealth of photos depicting life in Greenfield and we share a few in our virtual scrapbook. This collection will change periodically and we hope you will take the time to comment on any of the photos if you know something about it or perhaps you can identify any of the people who may be shown. Thanks and enjoy the photos.
Check out these photos of mothers and family.
View the Photo Scrapbook
---
Here's an interesting look at various homes and businesses in Greenfield - how they looked in the past, and a more current look. View this Then and Now look at the changing landscape of Greenfield.
---
Home of the ONLY African-American Automobile Manufacturer in America!
C.R. Patterson and Frederick Patterson were inducted into the Automotive Hall of Fame in Dearborn, MI, July 22, 2021!
You can see the video acceptance speech from one of C.R.'s descendants, Richard Patterson, here.
---
Doors of Opportunity on display at Town Hall
Careful thought, research, and consultation with architect W. B. Ittner and educators at Cornell and Harvard went into quotes Mr. McClain chose for the entrance doors. Entering the east door, Opportunity, Act in the Living Present, presents students with opportunity and a challenge to act.

Entrance and classroom doors offer opportunities reflecting McClain's vision "Promising the most good, to the greatest number, for the longest time".

The original 1914 classroom doors served until restoration of MHS in the early 2000's. While the architect promised the original doors would remain in service, they were removed in favor of new doors. The original doors were scheduled for disposal until Karen Yeager, teacher and McClain HI-Y Advisor, said NO. She appealed to school administrators who agreed if a place could be found for the doors. Karen knew David King would save them. Karen, McClain HI-Y members, and maintenance staff took the doors to David's. David continues to pay for a storage unit until the doors have new uses.

In 2020 John King proposed using the doors to honor Greenfielders who made a positive community impact. This concept became the "Doors of Opportunity" initiative. Images of persons are enlarged to fill each of the windowpanes. Along with the image is a brief note about the person as well as a QR code to scan for more information. John proposed the idea to Village Council chair, Phil Clyburn, who is very supportive. A stand was needed to secure the door as a free-standing, mobile display. David Ross (welder) created and completed this first prototype stand in March 2023.This first door is currently on the third floor of the Town Hall building.

The SECOND door was place in the entrance way at the Town Hall Building in late October. Both doors are shown below. Be sure to stop in and view them in person.

Suggestions are welcome for people to feature in additional "Doors of Opportunity" to display in businesses, churches, village office buildings, etc.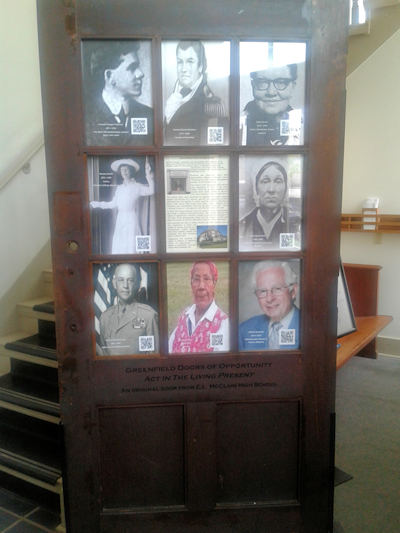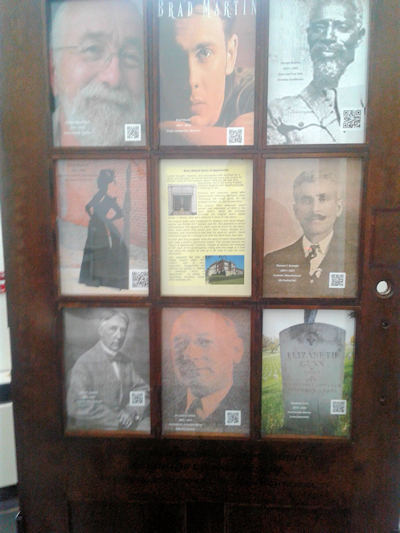 ---
The Historical Society of Greenfield Ohio, formed in 1949, is non-profit and exists to further historical preservation and education in Greenfield, Ohio, and the surrounding area. To this end it shall own and maintain all Greenfield Historical Society's properties for collecting, preserving and interpreting archival materials and artifacts indigenous to the Greenfield area; encourage historical research; sponsor programs, displays and special events; be concerned with the preservation of historical buildings and cooperate with other organizations interested in historic preservation.
Officers and Board of Trustees
Wendy Royse, Jay HardyCo-Presidents
Susan Thompson, Vice President
Sharon Greene, Secretary
Judy Schmidt, Treasurer
Stuart McNeil, Assistant Treasurer
Board of Trustees
| | | |
| --- | --- | --- |
| Jay Hardy | Doug Karnes | Stuart McNeil |
| | Wendy Royse | Harold Schmidt |
| Patsy Smith | Susan Thompson | Steve Winegar |
The Board of Trustees normally meets the first Thursday of each month at Travellers Rest (see Calendar for times). The meeting is open to the public.
Travellers Rest is open on Thursdays from 1:00 p.m. to 4:00 p.m. or by appointment. During the months of December, January, and February, Travellers Rest will NOT be open Thursday afternoons, unless special arrangements are made. Normal Thursday hours will resume beginning in March. In addition, we will not be open on Thanksgiving.
Contact us
By Phone: 937 981 7890, leave a message and we will get back to you.
By email: info@greenfieldhistoricalsociety.org
---
Check our Calendar
For all scheduled events, please visit our Website Calendar as it will have the most current information. It will also list some events sponsored by other historical societies within Highland County.
---
Let us Host your Meeting
Consider having your meeting or class reunion at the Grain and Hay building. Contact us for details and costs.
---
The pictures on the Greenfield Historical Society website cannot be used without permission.